Installation artist Jong Oh takes a minimalist approach to his work, building structures by suspending Plexiglass and painted string in the air.
As is his practice, before creating his exhibition "Sotto Voce" in the Contemporary Art Galleries, Oh waited for the uniquely configured space to speak to him.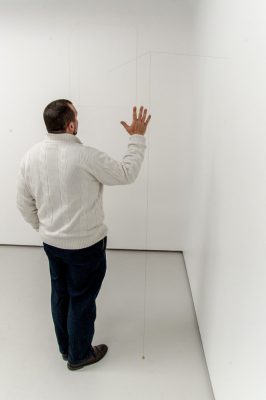 "I come to the gallery or studio and stay there for a few days looking at the space. I listen to the space," the New York-based Korean artist says. "I don't have any plans when I get to the space. The space has to allow me to do something. The process is intuitive, but it's also a lot of measuring and math. Some people think when they see my work that it's all planned and I know everything before I start, but actually it's very intuitive."
Oh spent his childhood in Grand Canaria, Spain. He earned a bachelor's degree in sculpture from Hongik University in Seoul and an FMA from the School of Visual Art in New York City, where he now lives. He has had solo exhibitions in Austria, Germany, and Mexico.
For Oh's exhibition in Storrs, the gallery walls are painted white and, as is typical of his work, he uses thread, Plexiglass, and some found objects to create illusions that can change in appearance as a visitor walks through the gallery. He describes his work as "line sculpture."
To read the entire article, visit UConn Today!
"Sotto Voce: Installations by Jong Oh" will continue through May 6 at the Contemporary Art Galleries in the Department of Art & Art History Building, 830 Bolton Road, Storrs. For more information go to the CAG website.
---